Music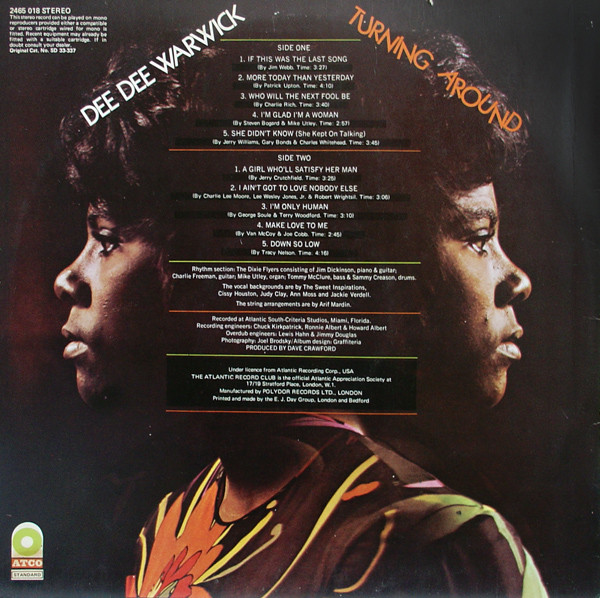 She Didn't Know – The Atco Sessions
Known to R&B, connoisseurs as one of the most soulful, underrated singers of all time, Dee Dee Warwick has been recording as a solo artist since 1963 and her body of recorded work includes some of the most treasured gems in soul music history.
In addition to cutting the original versions of songs like 'You're No Good' (a 1963 hit for Betty Everett) and 'I'm Gonna Make You Love Me' (a 1968 hit for The Supremes & The Temptations), Dee Dee's rich musical legacy includes such tunes as 'I Want To Be With You', and 'Foolish Fool' (among the many sides she recorded for Mercury Records) and the 1970 Atco hit, 'She Didn't Know (She Kept On Talking)'.
Born Delia Warrick into a musical family steeped in gospel. Her mother Lee was a founding member of the acclaimed Drinkard Singers, whose line-up included her aunt Emily (Cissy) Houston. The Drinkards sang regularly at New Hope Baptist Church in nearby Newark and Dee Dee was encouraged to sing. "My aunt Cissy really pushed me sing first since she was the choir director of our church when I was growing up," Dee Dee recalled in a 1988 interview with Britain's "Blues & Soul" magazine.
During her early teen years, Dee Dee and older sister Dionne had formed their own group known as The Gospelaires, often singing with The Drinkards. It was during a 1959 visit to the famed Apollo Theater in Harlem where The Drinkard Singers were appearing that the two Warwick sisters got their 'break' into show business. It seems that a producer was backstage looking for singers for a background session and although neither sister had ever sung in the studio, they offered their services, making their vocal debut on a Savoy Records' release by saxophone player Sam 'The Man' Taylor entitled 'Won't You Deliver Me'.
Subsequently, Dee Dee's voice graced literally hundreds and hundreds of records cut in and around New York from 1961 until 1965. Working with sister Dionne, oftentimes with singer Doris Troy (of 'Just One Look' fame), and later, with aunt Cissy, Sylvia Shemwell, Estelle Brown, and Myrna Smith (all four, original members of Atlantic recording group The Sweet Inspirations), Dee Dee's voice could be heard behind a veritable who's who of artists including The Drifters, Chuck Jackson, Maxine Brown, Garnet Mimms, Aretha Franklin, Nina Simone, Esther Phillips, and Wilson Pickett.
It was in 1963, a year after Dionne had signed her first recording deal with Scepter Records (hitting the charts out-the-box with 'Don't Make Me Over') that Dee Dee made her debut as a solo artist. In addition to her work on background sessions, Dee Dee was often called to do demos for up-and-coming songwriters and publishers in New York and it was sessions with famed writer/producers Jerry Leiber and Mike Stoller (whose credits included hit work with The Coasters, The Drifters, Ben E. King and many others) that led to a one-single deal with Jubilee Records.
Produced by Leiber & Stoller, Dee Dee's original version of 'You're No Good' began gaining airplay; however, a cover of the song by Chicago-based Betty Everett on Vee-Jay Records gained momentum, and Dee Dee's recording was soon lost in the shuffle although it remains a much sought-after item by R&B; collectors worldwide.
After the two producers formed their own labels (Red Bird, Blue Cat, and Tiger), they cut one more single with Dee Dee: 'Standing By', recorded in 1964 was released on Tiger but failed to register, although it also has achieved elevated status among soul fans due to its rarity.
Dee Dee recalled that her managers at the time "who were kinda like Brooklyn gangsters!" suggested that she should pursue a solo career: "They told me I should be making my own records. So I figured, 'why not?'" She made a one-off single, a version of 'I (Who Have Nothing)' which had been a 1963 hit for Ben E. King, for Hurd Records, a label Dee Dee notes "was owned by some shoe manufacturer in Connecticut who wanted to get into the record business!"
Then, in 1965, the singer signed with Blue Rock, a then-newly formed R&B-oriented; subsidiary of Mercury Records. "At the time, I was making good money doing background work and demos," Dee Dee recalled in 1988. "Around New York, our group had become known as 'Dee Dee and her girls' because we were used on everything, so going out on a solo career wasn't as much a big deal to me…"
After one minor hit on Blue Rock with 'We're Doing Fine' in the fall of 1965 (one of three singles released for the label), Dee Dee was transferred to the main Mercury imprint. Of the eleven singles released by the label between 1966 and 1969, five made a chart impact: 'I Want To Be With You' (from the Broadway musical 'Golden Boy') became a Top 10 R&B; and Top 50 pop hit; penned by legendary Philadelphia hitmakers Kenny Gamble & Leon Huff with partner Jerry Ross, 'I'm Gonna Make You Love Me' hit the R&B; Top 20 in early '67, as did 1969's immortal 'Foolish Fool' (produced by famed music man Ed Townsend). Two other 45s – 1967's 'When Love Slips Away' and 1969's 'That's Not Love' – also cut in Philadelphia (with Gamble, Huff, and Ross) were minor hits; while six other singles failed to make a chart impression.
In spite of some great recordings for the label (which released a total of two albums, a self-titled 1966 debut and 1969's 'Foolish Fool'), Dee Dee's recording career needed a boost. In a 1995 interview, she noted, "Mercury wanted to re-sign me but Atlantic made a better offer…I got a brand new car and some nice money! Jerry Wexler, who I had known for many years from all the background work I had done behind Atlantic artists, signed me and he and I picked most of the material I recorded for Atco."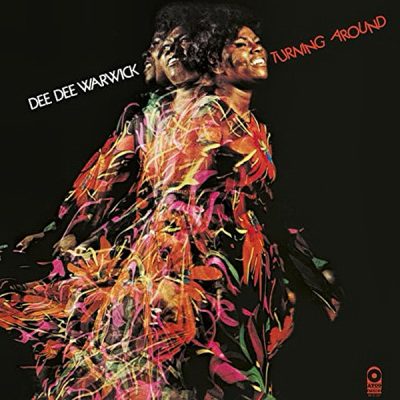 Dee Dee's first session for Atco in February 1970 represented a reunion with producer Ed Townsend. Four tunes were cut although nothing was ever released from that session until the 1996 release of 'The Atco Sessions' on Ichiban's Soul Classics label. Included in that collection were two tunes, 'Only The One You Love', a song that had previously been recorded by Aretha Franklin on Columbia and released in 1967 on the album, 'Take It Like You Give It', and a tune penned by Dee Dee and Townsend, 'The Way We Used To Do', another version of which was attempted at a Detroit session in 1971.
Since executive Wexler had just begun experiencing success by sending artists such as Aretha Franklin to Criteria Studios in Miami, Florida, he dispatched Dee Dee to the facility at the beginning of April to work with up-and-coming producer Dave Crawford (who was to deliver a hit for Atlantic with cousin Jackie Moore's 'Precious, Precious' later in 1970).
In all, Dee Dee cut ten songs which formed the basis for 'Turning Around', her one and only Atco album. "Jerry picked many of them," Dee Dee states. "I wanted to do the song 'More Today Than Yesterday' which had been recorded by Carmen McRae also on Atlantic and I remember the tune 'Down So Low' had originally been done by this rock group Mother Earth (in 1969). Jerry came up with Charlie Rich's 'Who Will Your Next Fool Be' and (the late) Van McCoy gave me 'Make Love To Me', which Maxine Brown later recorded, and which is still my favorite on the album because I love being made loved to!"
Other notable tunes on the LP included a version of 'If This Was The Last Song', a Jim Webb song that had also been recorded by Thelma Houston; 'I Ain't Got To Love Nobody Else', a Top 10 R&B; hit for The Masqueraders in 1968; and 'I'm Only Human', a song penned by Muscle Shoals-based songsmiths George Soule and Terry Woodford.
However, it was a song written by Jerry Williams, Jr. (aka Swamp Dogg), Gary "U.S." Bonds, and Charles Whitehead recorded as the first tune at that mammoth session in April, 1970 that gave Dee Dee her biggest hit for the label. 'She Didn't Know (She Kept On Talking)' was a classic tale of infidelty in which 'the other woman' had inadvertently revealed herself to her lover's wife and was much in the vein of 'To The Other Woman (I'm The Other Woman)', a tune that had been recorded by Jerry Williams on singer Doris Duke a few months earlier.
Legend has it that 'She Didn't Know' had been recorded originally by Duke as a follow-up to her hit; according to a 1970 interview with Dee Dee, "Doris had recorded it before me although I didn't know it. I was just presented with the song. I liked it and recorded it, and it was as simple as that…" As it turned out, another Williams protégé, Sandra Phillips also recorded the song but it's Dee Dee's version that remains an all-time soul classic.
The sessions featured The Dixie Flyers (consisting of Jim Dickinson on piano and guitar; Charlie Freeman also on guitar; Mike Utley on organ; Tommy McClure on bass; and Sammy Creason on drums); while strings (arranged by Arif Mardin) and background vocals (by The Sweet Inspirations, Dee Dee's adopted sister Judy Clay, her aunt Anne Moss, and gospel star Jackie Verdell) were overdubbed at Atlantic studios in New York.
The success of 'She Didn't Know' kept Dee Dee busy although she admits to being "very surprised" when the record took off. Anxious to keep the momentum going, Atco released one more single from the album ('If This Was The Last Song' backed with 'I'm Only Human') without any success, so the company dispatched her to Muscle Shoals in October for a ten-song session working again with Dave Crawford, who had by this time gone into partnership with producer Brad Shapiro.
Three sides were originally released from the session: the upbeat 'Cold Night In Georgia', with its obvious reference to the late Brook Benton's 'Rainy Night In Georgia' smash of earlier that year, which became a mid-sized hit for Dee Dee after its release in February 1971; the Ralph MacDonald / William Salter-penned flip, 'Searchin'; and a funky cover of Elvis Presley's million-selling 1969 smash, 'Suspicious Minds', which became Dee Dee's last Atco hit, peaking at No. 24 on the R&B; charts in the spring of 1971.
Of the remaining seven tunes (which included a version of the Fontella Bass '65 hit, 'Rescue Me'), tapes were found for only two tunes, the ultra-soulful 'Love I Found (In You)'; and a spirited remake of Baby Washington's 'I Can't Wait Until I See My Baby's Face'; and both were featured on the 1996 Ichiban Soul Classics compilation.
Still in search of a hit, Atco decided to switch locations for Dee Dee's next session. With Crawford and Shapiro remaining as producers and Wade Marcus handling arranging chores, Dee Dee headed to Detroit's Pac-Three studios in the summer of '71 for another eight-song session. While not all the tracks from that date were discovered, one of the two previously unreleased songs recovered, 'Turn Around And Love You' was also included in the 1996 reissue CD while a version of the Ashford & Simpson tune, 'Can't It Wait Until Tomorrow', recorded by both Diana Ross, and Simpson herself on her solo Motown debut, remains in the can.
Two other songs from that comprised Dee Dee's last Atco single. An Isaac Hayes / David Porter tune, 'Everybody's Got To Believe In Somebody' had previously been recorded by Sam & Dave in 1968 but without much success and the song proved no less a winner for Dee Dee. The memorable flipside had originally been cut as 'Signed Gladys' on the Gladys Knight & The Pips album, 'If I Were Your Woman' and renamed 'Signed DeDe' (with Dee Dee having followed her sister Dionne's astrological lead in changing the spelling of her name in 1971 when Dionne Warwick became Dionne Warwicke).
The single failed to register although Dee Dee notes, "Brad Shapiro and Dave Crawford wanted us to have a serious hit and we were still going for it when we did that session." Dee Dee made two more trips into the studios for Atlantic: both dates took place in early '72 and the first one yielded 'Take Your Time And Love Me' (along with a meandering ditty entitled 'Beauty, Duty, Charm And Sex' which despite its inviting title wasn't considered up to par for inclusion here); while the final session featured just one song, 'Worlds Apart' which made for a dramatic ending to the 1996 Ichiban Soul Classics retrospective.
Looking back, Dee Dee says that her decision to leave Atco was based in the company's inability to focus at the time on any other female artist outside their two superstar divas, Aretha Franklin and Roberta Flack. "They weren't doing what I thought they should be doing", Dee Dee comments. "Just before I left, Henry Allen (head of Atlantic's R&B; promotion department) really wanted to give me a hit record but the kind of things I recorded at the end – like 'Beauty, Duty, Charm And Sex' – were kids' stuff." In a "Blues & Soul" interview in 1975, Dee Dee stated, "The problem was simply that the company had a lot of other big female acts – like Aretha and Roberta – and you get into a situation where you don't get the right kind of material or production or promotion…"
Dee Dee re-signed with Mercury in late 1973 and the label released one single, 'All The Love That Went To Waste' (the theme for the movie 'A Touch Of Class') and although it received strong reviews, it failed to register. A year later, she moved on to Private Stock, who released two singles, one of which ('Get Out Of My Life') made it to No. 75 on the R&B; charts in the spring of 1975. After the label went out of business, Dee Dee spent a moment at RCA, recording under the name 'DeDe Schwartz' in 1975; at the time, she had also begun traveling globally with sister Dionne doing background vocals in between doing gigs of her own.
During the mid-Eighties, Dee Dee recorded albums for Buddah-distributed Sutra Records, and for a Nashville-based company, Heritage Records, and both remain collectors items. After living in Los Angeles for a number of years, Dee Dee moved to Georgia in 1994, and at the time of writing, she is working on a project based on the life of Dinah Washington.
On a personal note, working as the compilation producer and liner notes writer on the album took me full circle, back to my years growing up in London as a die-hard R&B; fan. Dee Dee Warwick was the very first artist I ever interviewed and subsequently, she was the subject of my first-ever published article, which appeared in the R&B; magazine, 'Rhythm & Soul, USA', run by renowned U.K. R&B; scribe Dave Godin. Dee Dee and I have both come a long way since and it' was a heartfelt pleasure to have the opportunity to present some of her great music on CD for the first time.
These notes originally appeared on Ichiban Soul Classics (SCL 2112) released 1996, by David Nathan
Dee Dee Warwick - I Just Need You
Dee Dee Warwick - Foolish Fool (1969)

Dee Dee Warwick - I Want To Be With You (2001)

Dee Dee Warwick - Call Me (1984)

Dee Dee Warwick - Collection (2005)

Dee Dee Warwick - Turnin' Around (1970)