I'm Gonna Make You Love Me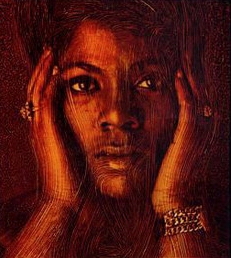 Dee Dee Warwick - I Just Need You
Written by Carl D'Errico and Neil Diamond (The record provided by Jeff Collins (New York), who received it personally from Carl D'Errico)
11/1963
03/1965
08/1965
08/1966
11/1966
05/1967
02/1969
05/1969
07/1969
05/1970
02/1971
05/1971
05/1975
'You're No Good' by Dee Dee Warwick
'Do It with All Your Heart' by Dee Dee Warwick
'We're Doing Fine' by Dee Dee Warwick
'I Want to Be with You' by Dee Dee Warwick
'I'm Gonna Make You Love Me' by Dee Dee Warwick
'When Love Slips Away' by Dee Dee Warwick
'Foolish Fool' by Dee Dee Warwick
'That's Not Love' by Dee Dee Warwick
'Ring of Bright Water' by Dee Dee Warwick
'She Didn't Know (She Kept on Talking)' by Dee Dee Warwick
'Cold Night in Georgia' by Dee Dee Warwick
'Suspicious Minds' by Dee Dee Warwick
'Get Out of My Life' by Dee Dee Warwick
117
124
96
41
88
92
57
106
113
70
–
80
–
To promote the 1966 film 'Alfie'. Dee Dee recorded 'Alfie' before Dionne did, when she was on a performing tour of gambling houses in northern England and Cilla Black had a hit with the song there. But it wasn't released until long after Dionne's – as a track on Dee Dee's second album. "I fell in love with the song and thought it was written just for me. Turns out it was written just for my sister."
It was on a May 1966 visit to the U.K., ostensibly to appear on the popular British television show, 'Ready Steady Go!' that Dee Dee found herself in the recording studios of Philips Records (the Dutch-based parent company of Chicago-based Mercury Records) cutting a track with producer Johnny Franz and arranger Peter Knight, known for their stellar work for British star singer Dusty Springfield.
The choice of song was particularly interesting: written by Bacharach & David specifically for the film of the same name, 'Alfie' had already been a Top 10 U.K. hit for Liverpool native Cilla Black, already a major chartmaker in Britain by the time Dee Dee cut it in London. In a 2001 interview we did, she remembered, "I couldn't believe what they had there for me. There was a forty-piece orchestra and a full chorus… The whole session blew me away."
Philips in the U.K. issued it as part of an EP and then a few month later a the 'B' side to the single 'I Want To Be With You', while in the U.S. it finally surfaced as the flipside of another 45, 'Locked In Your Love', released in 1967. In a 2012 comment for these notes, Dionne – who would have the biggest U.S. chart success with 'Alfie' in 1967 after cutting it well over a year after her younger sister – noted, "Dee Dee called me when she recorded 'Alfie' and was excited about the way it turned out. When I finally got a chance to hear her recordings, I felt the definitive version had now been done! She treated the song as only she could…"
Looking back, Dee Dee says that her decision to leave Atco was based in the company's inability to focus at the time on any other female artist outside their two superstar divas, Aretha Franklin and Roberta Flack.
"They weren't doing what I thought they should be doing", Dee Dee comments. "Just before I left, Henry Allen (head of Atlantic's R&B; promotion department) really wanted to give me a hit record but the kind of things I recorded at the end – like 'Beauty, Duty, Charm. And Sex' – were kids' stuff."
In a "Blues & Soul" interview in 1975, Dee Dee stated, "The problem was simply that the company had a lot of other big female acts – like Aretha and Roberta – and you get into a situation where you don't get the right kind of material or production or promotion…"
The upbeat 'Cold Night In Georgia' (with its obvious reference to the late Brook Benton's 'Rainy Night in Georgia' smash of earlier that year), which became a mid-sized hit for Dee Dee after its release.
Bobby Scott wrote "Don't Pay Them No Mind" especially for Dee Dee Warwick.
A February 1966 session with producer Lou Courtney (a recording artist in his own right) included the song, 'Don't Pay Them No Mind' with a particularly pointed and powerful lyric about a couple subjected to societal ridicule (possibly because of race or sexual orientation).
Dee Dee's original version of the song (cut also by her then-labelmate Nina Simone, for whom Dee Dee had sung backgrounds in 1964 and 1965) remained in the can until it was included on the 'Foolish Fool' album some three years later.
"Dee Dee Warwick sings her behind off on 1969 hit Foolish Fool", Chaka exclaims. "I first heard Dee Dee's Foolish Fool when I was growing up and it made a deep impression on me. That song has been a part of my fiber all my life. I said, 'I got to put this down, people got to know about this song'. I know a lot of women feel what the song says, 'she's gotta be crazy if she thinks she can take you from me, she's a foolish, foolish fool'. Dee Dee must have been through something traumatic to sing it the way she did. It is my tribute to her. I hope she likes it."
Dee Dee Warwick was thrilled when she heard Chaka's funky rendition. "She went for it. I love it. I thank her for listening to me and hearing what my heart had to say. I am really flattered. I appreciate her humility. That's a nice thing to say about anybody. Very few people say that in this business."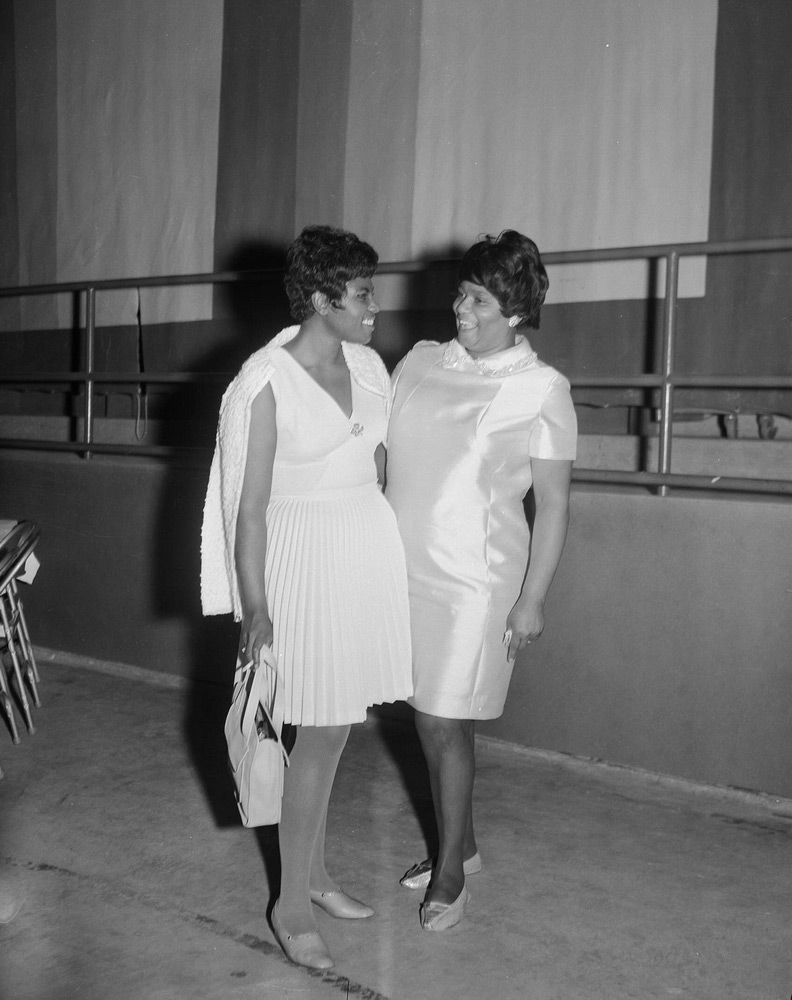 Dee Dee Warwick adds, "When I sang Foolish Fool, I was in love at the time. And I was determined that no one or nothing was going to destroy my love."
The same fate befell a series of singles Mercury released an Dee Dee during 1968 including 'Girls Need Love' whose flipside, the wonderful 'It's Not Fair', was written by Kenny Gamble and Thom Bell, who both had a major impact on the music world of the late '60s and early '70s, Bell as a songwriter and producer for such artists as The Delfonics, The Stylistics and The Spinners and Gamble as one half of the then-emerging team that included his musical partner Leon Huff.
Gamble & Huff produced a great January 1968 session on Dee Dee in Philly and thinking back, she recalled in 2001, "I felt good about the sessions I did with Gamble & Huff. They were relaxed sessions and we always rehearsed and prepared before we went into the studio. I got to know what I was singing."
"I produced it myself because my producer was sick. I take up producing. I'd rather do it for someone else. On your own songs, you hear everything you're trying to give and it is really something."
Following the U.S. success of 'I Want To Be With You', Mercury had Dee Dee work with several other producers but it was in October 1966 with Philadelphia producer Jerry Ross on a song he'd co-written with then-fledgling writer Kenny Gamble and Jerry Williams (aka 'Swamp Dogg') that brought more success for the singer.
Although 'I'm Gonna Make You Love Me' would become a major crossover hit for The Supremes & The Temptations in early 1969 (and achieve some chart action for U.K.-based American singer Madeleine Bell in her homeland in April 1968), Dee Dee's original version (which featured Nick Ashford & Valerie Simpson on background vocals) reached No. 13 on the R&B charts.
Van McCoy (Dee Dee sang background vocals for his 'It Ain't No Big Thing / Love Can Mess Up Your Mind' songs in 1963) gave me 'Make Love To Me', which Maxine Brown later recorded, and which is still my favorite on the album because I love being made love to!"
The song "Pooky" is dedicated to Dee Dee's younger brother, Mancel L. Warrick (nickname Pookie), who died in a car accident. Mancel was 20 years old. He is survived by his wife, Thomasino, and two-year-old son, Barry.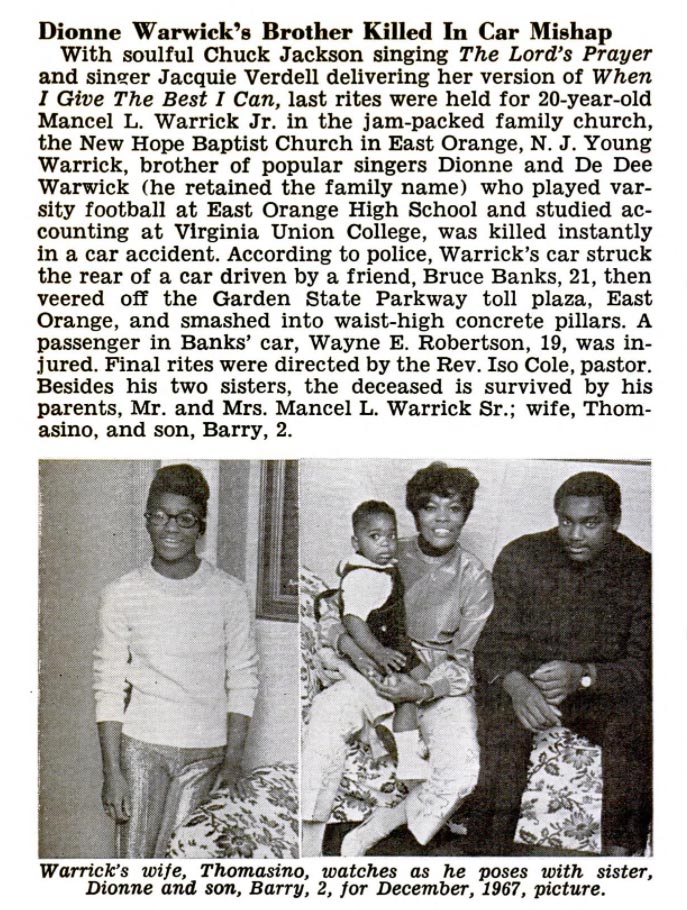 'She Didn't Know (She Kept On Talking)' was a classic tale of infidelity in which 'the other woman' had inadvertently revealed herself to her lover's wife and was much in the vein of 'To The Other Woman (I'm The Other Woman)', a tune that had been produced by Jerry Williams for singer Doris Duke a few month earlier.
Legend has it that 'She Didn't Know' had been recorded originally by Duke as a follow-up to her hit. According to a 1970 interview with Dee Dee, "Doris had recorded it before me although I didn't know it, and it was as simple as that..." As it turned out, another Williams protégé, Sandra Phillips also recorded the song but it's Dee Dee' version that remains an all-time soul classic.
The second track recorded that momentous day in 1968 had special significance for Dee Dee: "I have always loved the inspirational song, 'Thank God'. My father came with me to the session and he actually co-write the song… even though he never got credit for it", she recalled in 1988.
With the Teaneck Choir from her home state providing musical support, the recording highlighted Dee Dee's ever-present gospel roots and in a 2012 comment, sister Dionne states, "I was not at that session but I do remember when daddy got home he raved about the recording and how sensational Dee Dee sounded and how much the producer, engineer, and orchestra enjoyed being a part of the session…"
The response to the single prompted Mercury to release a 1967 album on Dee Dee, cobbled together from sessions she'd done up till then and in February of that year, she reunited with producer Jerry Ross and arranger Jimmy Wisner for a three-song session that yielded her next chart hit, in the form of 'When Love Slips Away', a Top 50 R&B hit.
Dee Dee noted in our 2001 interview, "I really enjoyed working with Jimmy Wisner. He was this white guy who was very talented and he pulled some great things out of me vocally."
1967: I Want To Be With You / I'm Gonna Make You Love Me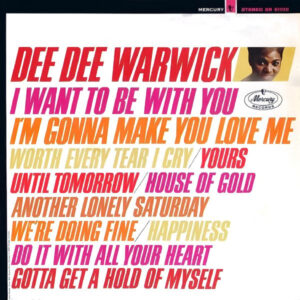 Mercury. Credits: Horace Ott (Arranged By), Teacho Wiltshire (Arranged By, Conductor), Jimmy Wisner (Arranged By), Ed Townsend (Producer), Jerry Ross (Producer)
Around Tin Pan Alley today - and today that's a street that embraces almost every corner of the world - you hear a lot of talk about 'tell it like it is', 'soul', 'nitty-gritty' and 'where it's at'. Simply translated, it means - AU NATURALE. Singing with a feeling and a meaning and a sincerity that bespeaks an honest interpretation of a song and is presented by a singer truthfully and without electronic trappings, kitchen sink arrangements and vocal gymnastics.
It's precisely this quality that makes Dee Dee Warwick one of the most promising young singers to step before a microphone in a too long period. Her 'soul' quality is perhaps derived from the gospel heritage that saw her family perform as The Drinkard Singers - one of the most renowned gospel groups in the country... the first of their musical persuasion to appear at the Newport Jazz Festival.
Following years of backstage exposure to the family's ovation-filled performances, Dee Dee won easy acceptance at New York's many recording studios, singing background vocals for other performers recording sessions. Each day, each week saw a different personality at the mike, a different arranger and musical conductor with whom she had to work. A flexibility and a professionalism developed that has since proved to be an apprenticeship well spent.
Now, as a solo performer, she is in demand for clubs and theaters throughout the country, she has toured England to acclaim via the two title tunes of this album as well as through other of her Mercury recordings.
Listen. You'll hear it not only 'like it is' - but like it was meant to be! (The Original LP Notes)
1969: Foolish Fool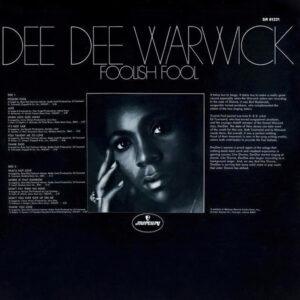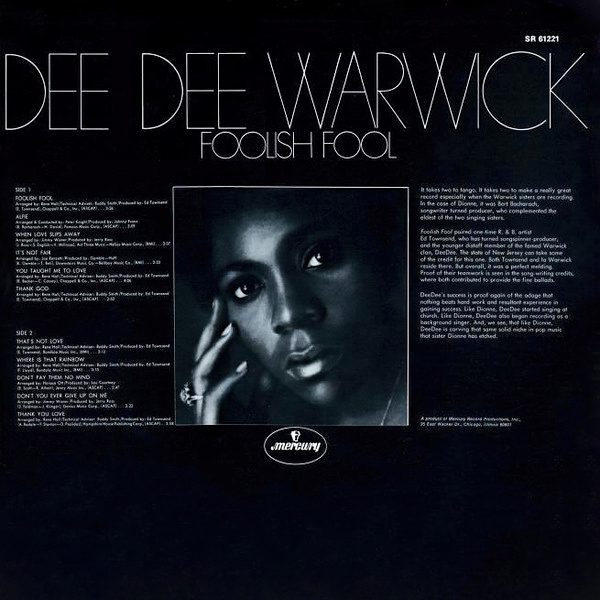 Mercury. Credits: Horace Ott (Arranged By), Jimmy Wisner (Arranged By), Joe Renzetti (Arranged By), Rene Hall (Arranged By), Peter Knight (Arranged By, Conductor), Ed Townsend (Producer), Gamble & Huff (Producer), Jerry Ross (Producer), John Franz (Producer), Lou Courtney (Producer)
It takes two to tango. It takes two to make a really great record especially when the Warwick sisters are recording. Foolish Fool paired one-time R&B artist Ed Townsend, who has turned songspinner-producer and the younger distaff member of the famed Warwick clan, Dee Dee. The state of New Jersey can take some of the credit for this one. Both Townsend and la Warwick reside there. But overall, it was a perfect melding. Proof of their teamwork is seen in the song-writing credits, where both contributed to provide the fine ballads. Dee Dee's success is proof again of the adage that nothing beats hard work and resultant experience in gaining success.
Dee Dee starting singing at church, also began recording as a background singer. And, we see, that Dee Dee is carving that some solid niche in pop music that sister Dionne has etched. (The Original LP Notes)
1970: Turning Around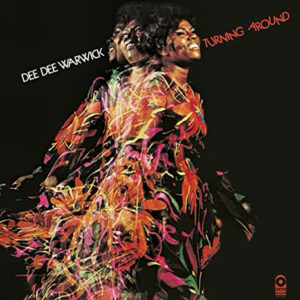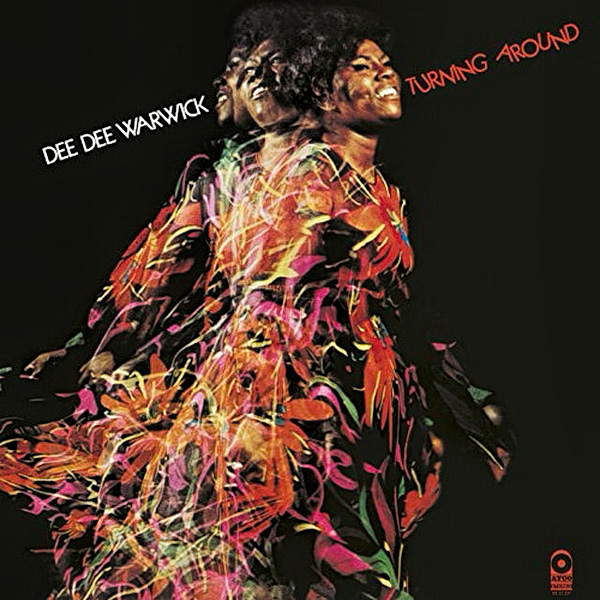 ATCO Records. Credits: Ann Moss (Backing Vocals), Cissy Houston (Backing Vocals), Jackie Verdell (Backing Vocals), Judy Clay (Backing Vocals), Jim Dickinson (Guitar, Piano), Tommy McClure (Bass), Sammy Creason (Drums), Charlie Freeman (Guitar), Michael Utley (Organ), Arif Mardin (Orchestrated By), Chuck Kirkpatrick (Engineer), Howard Albert (Engineer), Ron Albert (Engineer), Dave Crawford (Producer), Jimmy Douglass (Tracking By), Lew Hahn (Tracking By), Graffiteria (Artwork By), Joel Brodsky (Photography By)
Dee Dee Warwick has been turning out good records now for half a decade and she really hasn't received the acclaim she warrants. However, her new album, Turning Around, even tops anything she has ever recorded. It's particularly interesting and pleasing since it is also her first since joining Atlantic: "Working with such a good company as Atlantic is really satisfying", she told me over a somewhat echoing telephone line from her home in New Jersey. "They attack everything so professionally that nothing is left to chance. You can say that I'm very happy and thrilled to be recording for Atlantic." (John Abbey, Blues & Soul, December 1970)
1983: Dee Dee (US)
Heritage Sound Recording Distributors.
*Two albums ('Dee Dee' and 'Call Me') did in 4 days. Dee Dee was the co-producer.
1984: Call Me
Sutra Records. Recorded and mixed in Nashville at Audio Media Recorders. Credits: Paul Whitehead (Producer), Jack Jackson (Bass), Dennis Burnside (Keyboards), Paul Worley (Guitars), Brent Rowan (Guitars), Eddie Bayers (Drums and Percussion), Don Sheffield (Trumpets), Rick Gibson (Trumpets), Terry Meade (Trumpets), Don Jackson (Saxophones), Sam Levine (Saxophones), Dennis Good (Trombones), Rex Peer (Trombones), Donna Sheridon (Backing Vocals), Karen Taylor (Backing Vocals), Judy Rodman (Backing Vocals), Don Jackson (Horns and Strings Arranged By), Dennis Burnside (Horns and Strings Arranged By), Pat McMakin (Engineered By), Hollis Halford (Engineered By), Melodie Gimple (Photography), Kelley's Graphics (Graphics), M.K. Key for Shibui (Cover Design)
*Two albums ('Dee Dee' and 'Call Me') did in 4 days. Dee Dee was the co-producer.
2001: I Want To Be With You (US)
2005: The Collection (Europe)
2014: The Complete Atco Recordings (US)
For promotional use only ! **ALL COPYRIGHTS GO TO THEIR RESPECTIVE OWNERS. PLEASE SUPPORT THESE ARTISTS BY BUYING THEIR TRACKS.**
Dee Dee Warwick - Foolish Fool (1969)

Dee Dee Warwick - I Want To Be With You (2001)

Dee Dee Warwick - Call Me (1984)

Dee Dee Warwick - Collection (2005)

Dee Dee Warwick - Turnin' Around (1970)