Dee Dee Warwick - I Just Need You
Written by Carl D'Errico and Neil Diamond
Dee Dee Warwick - Foolish Fool (1969)

Dee Dee Warwick - I Want To Be With You (2001)

Dee Dee Warwick - Call Me (1984)

Dee Dee Warwick - Collection (2005)

Dee Dee Warwick - Turnin' Around (1970)
11/1963
03/1965
08/1965
08/1966
11/1966
05/1967
02/1969
05/1969
07/1969
05/1970
02/1971
05/1971
05/1975
'You're No Good' by Dee Dee Warwick
'Do It with All Your Heart' by Dee Dee Warwick
'We're Doing Fine' by Dee Dee Warwick
'I Want to Be with You' by Dee Dee Warwick
'I'm Gonna Make You Love Me' by Dee Dee Warwick
'When Love Slips Away' by Dee Dee Warwick
'Foolish Fool' by Dee Dee Warwick
'That's Not Love' by Dee Dee Warwick
'Ring of Bright Water' by Dee Dee Warwick
'She Didn't Know (She Kept on Talking)' by Dee Dee Warwick
'Cold Night in Georgia' by Dee Dee Warwick
'Suspicious Minds' by Dee Dee Warwick
'Get Out of My Life' by Dee Dee Warwick
117
124
96
41
88
92
57
106
113
70
–
80
–
Alfie
Beauty, Duty, Charm. And Sex
Cold Night In Georgia
Don't Pay Them No Mind
Foolish Fool
Girls Need Love
I (Who Have Nothing)
I'm Gonna Make You Love Me
Make Love To Me
Pooky
She Didn't Know
Thank God
When Love Slips Away
* I Just Need You
Alfie
To promote the 1966 film 'Alfie'. Dee Dee recorded 'Alfie' before Dionne did, when she was on a performing tour of gambling houses in northern England and Cilla Black had a hit with the song there. But it wasn't released until long after Dionne's – as a track on Dee Dee's second album. "I fell in love with the song and thought it was written just for me. Turns out it was written just for my sister."
It was on a May 1966 visit to the U.K., ostensibly to appear on the popular British television show, 'Ready Steady Go!' that Dee Dee found herself in the recording studios of Philips Records (the Dutch-based parent company of Chicago-based Mercury Records) cutting a track with producer Johnny Franz and arranger Peter Knight, known for their stellar work for British star singer Dusty Springfield.
The choice of song was particularly interesting: written by Bacharach & David specifically for the film of the same name, 'Alfie' had already been a Top 10 U.K. hit for Liverpool native Cilla Black, already a major chartmaker in Britain by the time Dee Dee cut it in London. In a 2001 interview we did, she remembered, "I couldn't believe what they had there for me. There was a forty-piece orchestra and a full chorus… The whole session blew me away."
Philips in the U.K. issued it as part of an EP and then a few month later a the 'B' side to the single 'I Want To Be With You', while in the U.S. it finally surfaced as the flipside of another 45, 'Locked In Your Love', released in 1967. In a 2012 comment for these notes, Dionne – who would have the biggest U.S. chart success with 'Alfie' in 1967 after cutting it well over a year after her younger sister – noted, "Dee Dee called me when she recorded 'Alfie' and was excited about the way it turned out. When I finally got a chance to hear her recordings, I felt the definitive version had now been done! She treated the song as only she could…"
Beauty, Duty, Charm. And Sex
Cold Night In Georgia
Don't Pay Them No Mind
Foolish Fool
Girls Need Love
I (Who Have Nothing)
I'm Gonna Make You Love Me
Make Love To Me
Pooky
She Didn't Know
Thank God
When Love Slips Away
* I Just Need You
1967: I Want To Be With You / I'm Gonna Make You Love Me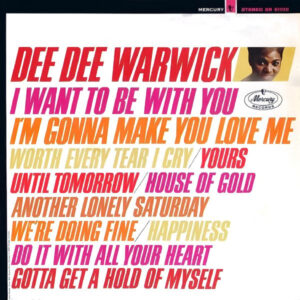 Mercury. Credits: Horace Ott (Arranged By), Teacho Wiltshire (Arranged By, Conductor), Jimmy Wisner (Arranged By), Ed Townsend (Producer), Jerry Ross (Producer)
Around Tin Pan Alley today - and today that's a street that embraces almost every corner of the world - you hear a lot of talk about 'tell it like it is', 'soul', 'nitty-gritty' and 'where it's at'. Simply translated, it means - AU NATURALE. Singing with a feeling and a meaning and a sincerity that bespeaks an honest interpretation of a song and is presented by a singer truthfully and without electronic trappings, kitchen sink arrangements and vocal gymnastics.
It's precisely this quality that makes Dee Dee Warwick one of the most promising young singers to step before a microphone in a too long period. Her 'soul' quality is perhaps derived from the gospel heritage that saw her family perform as The Drinkard Singers - one of the most renowned gospel groups in the country... the first of their musical persuasion to appear at the Newport Jazz Festival.
Following years of backstage exposure to the family's ovation-filled performances, Dee Dee won easy acceptance at New York's many recording studios, singing background vocals for other performers recording sessions. Each day, each week saw a different personality at the mike, a different arranger and musical conductor with whom she had to work. A flexibility and a professionalism developed that has since proved to be an apprenticeship well spent.
Now, as a solo performer, she is in demand for clubs and theaters throughout the country, she has toured England to acclaim via the two title tunes of this album as well as through other of her Mercury recordings.
Listen. You'll hear it not only 'like it is' - but like it was meant to be! (The Original LP Notes)
1969: Foolish Fool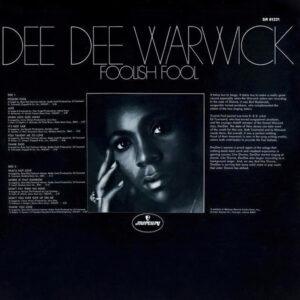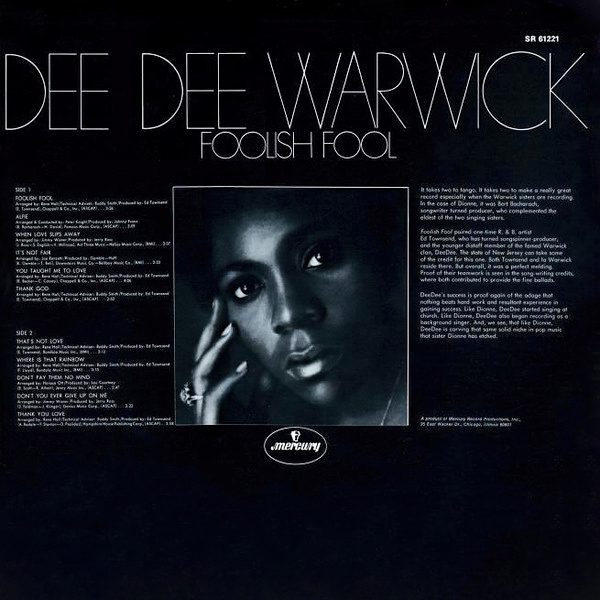 Mercury. Credits: Horace Ott (Arranged By), Jimmy Wisner (Arranged By), Joe Renzetti (Arranged By), Rene Hall (Arranged By), Peter Knight (Arranged By, Conductor), Ed Townsend (Producer), Gamble & Huff (Producer), Jerry Ross (Producer), John Franz (Producer), Lou Courtney (Producer)
It takes two to tango. It takes two to make a really great record especially when the Warwick sisters are recording. Foolish Fool paired one-time R&B artist Ed Townsend, who has turned songspinner-producer and the younger distaff member of the famed Warwick clan, Dee Dee. The state of New Jersey can take some of the credit for this one. Both Townsend and la Warwick reside there. But overall, it was a perfect melding. Proof of their teamwork is seen in the song-writing credits, where both contributed to provide the fine ballads. Dee Dee's success is proof again of the adage that nothing beats hard work and resultant experience in gaining success.
Dee Dee starting singing at church, also began recording as a background singer. And, we see, that Dee Dee is carving that some solid niche in pop music that sister Dionne has etched. (The Original LP Notes)
1970: Turning Around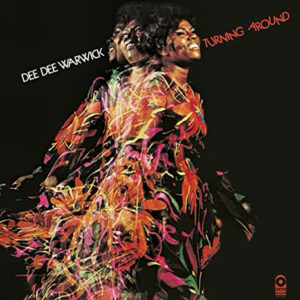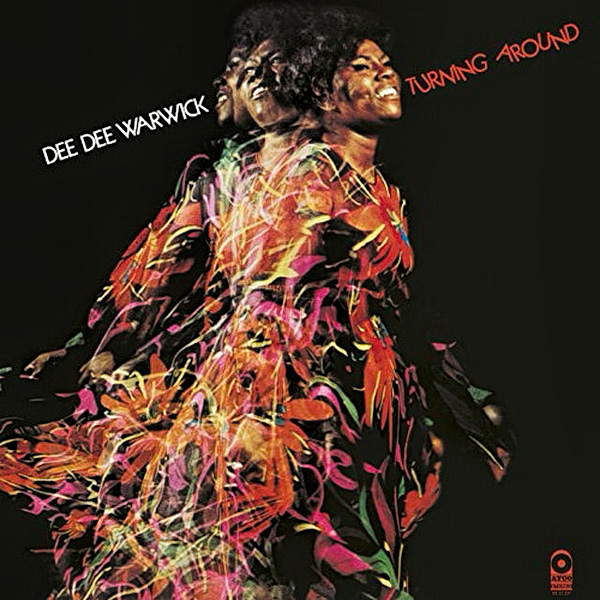 ATCO Records. Credits: Ann Moss (Backing Vocals), Cissy Houston (Backing Vocals), Jackie Verdell (Backing Vocals), Judy Clay (Backing Vocals), Jim Dickinson (Guitar, Piano), Tommy McClure (Bass), Sammy Creason (Drums), Charlie Freeman (Guitar), Michael Utley (Organ), Arif Mardin (Orchestrated By), Chuck Kirkpatrick (Engineer), Howard Albert (Engineer), Ron Albert (Engineer), Dave Crawford (Producer), Jimmy Douglass (Tracking By), Lew Hahn (Tracking By), Graffiteria (Artwork By), Joel Brodsky (Photography By)
Dee Dee Warwick has been turning out good records now for half a decade and she really hasn't received the acclaim she warrants. However, her new album, Turning Around, even tops anything she has ever recorded. It's particularly interesting and pleasing since it is also her first since joining Atlantic: "Working with such a good company as Atlantic is really satisfying", she told me over a somewhat echoing telephone line from her home in New Jersey. "They attack everything so professionally that nothing is left to chance. You can say that I'm very happy and thrilled to be recording for Atlantic." (John Abbey, Blues & Soul, December 1970)
1983: Dee Dee (US)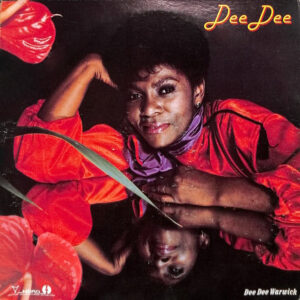 Heritage Sound Recording Distributors. Credits: JBF Enterprises (Cover Design), Leon Ross (Title and Backliner)
Dee Dee Warwick, like her sister, is blessed with tremendous voice and talent. The feeling Dee Dee puts into each song is genuine; she loves what she is doing and lets it show. This is such an incredible recording - no one could be disappointed in owning it. We at Heritage Sound would like to extend a special "thank you" for giving us the opportunity to release this album to JBF Enterprises and "Dee Dee".
*Two albums ('Dee Dee' and 'Call Me') did in 4 days. Dee Dee was the co-producer.
1984: Call Me
Sutra Records. Recorded and mixed in Nashville at Audio Media Recorders. Credits: Paul Whitehead (Producer), Jack Jackson (Bass), Dennis Burnside (Keyboards), Paul Worley (Guitars), Brent Rowan (Guitars), Eddie Bayers (Drums and Percussion), Don Sheffield (Trumpets), Rick Gibson (Trumpets), Terry Meade (Trumpets), Don Jackson (Saxophones), Sam Levine (Saxophones), Dennis Good (Trombones), Rex Peer (Trombones), Donna Sheridon (Backing Vocals), Karen Taylor (Backing Vocals), Judy Rodman (Backing Vocals), Don Jackson (Horns and Strings Arranged By), Dennis Burnside (Horns and Strings Arranged By), Pat McMakin (Engineered By), Hollis Halford (Engineered By), Melodie Gimple (Photography), Kelley's Graphics (Graphics), M.K. Key for Shibui (Cover Design)
*Two albums ('Dee Dee' and 'Call Me') did in 4 days. Dee Dee was the co-producer.
2001: I Want To Be With You (US)
2005: The Collection (Europe)
2014: The Complete Atco Recordings (US)
For promotional use only ! **ALL COPYRIGHTS GO TO THEIR RESPECTIVE OWNERS. PLEASE SUPPORT THESE ARTISTS BY BUYING THEIR TRACKS.**
* 'In The Basement', May – July 1999 №14