I'm Gonna Make You Love Me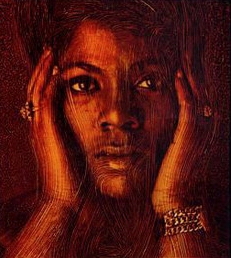 (written by Carl D'Errico and Neil Diamond)
11/1963
03/1965
08/1965
08/1966
11/1966
05/1967
02/1969
05/1969
07/1969
05/1970
02/1971
05/1971
05/1975
'You're No Good' by Dee Dee Warwick
'Do It with All Your Heart' by Dee Dee Warwick
'We're Doing Fine' by Dee Dee Warwick
'I Want to Be with You' by Dee Dee Warwick
'I'm Gonna Make You Love' Me by Dee Dee Warwick
'When Love Slips Away' by Dee Dee Warwick
'Foolish Fool' by Dee Dee Warwick
'That's Not Love' by Dee Dee Warwick
'Ring of Bright Water' by Dee Dee Warwick
'She Didn't Know (She Kept on Talking)' by Dee Dee Warwick
'Cold Night in Georgia' by Dee Dee Warwick
'Suspicious Minds' by Dee Dee Warwick
'Get Out of My Life' by Dee Dee Warwick
117
124
96
41
88
92
57
106
113
70
–
80
–
To promote the 1966 film 'Alfie'. Dee Dee recorded 'Alfie' before Dionne did, when she was on a performing tour of gambling houses in northern England and Cilla Black had a hit with the song there. But it wasn't released until long after Dionne's – as a track on Dee Dee's second album. "I fell in love with the song and thought it was written just for me. Turns out it was written just for my sister."
It was on a May 1966 visit to the U.K., ostensibly to appear on the popular British television show, 'Ready Steady Go!' that Dee Dee found herself in the recording studios of Philips Records (the Dutch-based parent company of Chicago-based Mercury Records) cutting a track with producer Johnny Franz and arranger Peter Knight, known for their stellar work for British star singer Dusty Springfield.
The choice of song was particularly interesting: written by Bacharach & David specifically for the film of the same name, 'Alfie' had already been a Top 10 U.K. hit for Liverpool native Cilla Black, already a major chartmaker in Britain by the time Dee Dee cut it in London. In a 2001 interview we did, she remembered, "I couldn't believe what they had there for me. There was a forty-piece orchestra and a full chorus… The whole session blew me away."
Philips in the U.K. issued it as part of an EP and then a few month later a the 'B' side to the single 'I Want To Be With You', while in the U.S. it finally surfaced as the flipside of another 45, 'Locked In Your Love', released in 1967. In a 2012 comment for these notes, Dionne – who would have the biggest U.S. chart success with 'Alfie' in 1967 after cutting it well over a year after her younger sister – noted, "Dee Dee called me when she recorded 'Alfie' and was excited about the way it turned out. When I finally got a chance to hear her recordings, I felt the definitive version had now been done! She treated the song as only she could…"
Looking back, Dee Dee says that her decision to leave Atco was based in the company's inability to focus at the time on any other female artist outside their two superstar divas, Aretha Franklin and Roberta Flack.
"They weren't doing what I thought they should be doing", Dee Dee comments. "Just before I left, Henry Allen (head of Atlantic's R&B; promotion department) really wanted to give me a hit record but the kind of things I recorded at the end – like 'Beauty, Duty, Charm. And Sex' – were kids' stuff."
In a "Blues & Soul" interview in 1975, Dee Dee stated, "The problem was simply that the company had a lot of other big female acts – like Aretha and Roberta – and you get into a situation where you don't get the right kind of material or production or promotion…"
The upbeat 'Cold Night In Georgia' (with its obvious reference to the late Brook Benton's 'Rainy Night in Georgia' smash of earlier that year), which became a mid-sized hit for Dee Dee after its release.
A February 1966 session with producer Lou Courtney (a recording artist in his own right) included the song, 'Don't Pay Them No Mind' with a particularly pointed and powerful lyric about a couple subjected to societal ridicule (possibly because of race or sexual orientation).
Dee Dee's original version of the song (cut also by her then-labelmate Nina Simone, for whom Dee Dee had sung backgrounds in 1964 and 1965) remained in the can until it was included on the 'Foolish Fool' album some three years later.
"Dee Dee Warwick sings her behind off on 1969 hit Foolish Fool", Chaka exclaims. "I first heard Dee Dee's Foolish Fool when I was growing up and it made a deep impression on me. That song has been a part of my fiber all my life. I said, 'I got to put this down, people got to know about this song'. I know a lot of women feel what the song says, 'she's gotta be crazy if she thinks she can take you from me, she's a foolish, foolish fool'. Dee Dee must have been through something traumatic to sing it the way she did. It is my tribute to her. I hope she likes it."
Dee Dee Warwick was thrilled when she heard Chaka's funky rendition. "She went for it. I love it. I thank her for listening to me and hearing what my heart had to say. I am really flattered. I appreciate her humility. That's a nice thing to say about anybody. Very few people say that in this business."
Dee Dee Warwick adds, "When I sang Foolish Fool, I was in love at the time. And I was determined that no one or nothing was going to destroy my love."
(Dee Dee was in a relationship with Ida Jones at that time. See their photo in the Gallery)
The same fate befell a series of singles Mercury released an Dee Dee during 1968 including 'Girls Need Love' whose flipside, the wonderful 'It's Not Fair', was written by Kenny Gamble and Thom Bell, who both had a major impact on the music world of the late '60s and early '70s, Bell as a songwriter and producer for such artists as The Delfonics, The Stylistics and The Spinners and Gamble as one half of the then-emerging team that included his musical partner Leon Huff.
Gamble & Huff produced a great January 1968 session on Dee Dee in Philly and thinking back, she recalled in 2001, "I felt good about the sessions I did with Gamble & Huff. They were relaxed sessions and we always rehearsed and prepared before we went into the studio. I got to know what I was singing."
Following the U.S. success of 'I Want To Be With You', Mercury had Dee Dee work with several other producers but it was in October 1966 with Philadelphia producer Jerry Ross on a song he'd co-written with then-fledgling writer Kenny Gamble and Jerry Williams (aka 'Swamp Dogg') that brought more success for the singer.
Although 'I'm Gonna Make You Love Me' would become a major crossover hit for The Supremes & The Temptations in early 1969 (and achieve some chart action for U.K.-based American singer Madeleine Bell in her homeland in April 1968), Dee Dee's original version (which featured Nick Ashford & Valerie Simpson on background vocals) reached No. 13 on the R&B charts.
The song "Pooky" is dedicated to Dee Dee's younger brother, Mancel L. Warrick (nickname Pookie), who died in a car accident. Mancel was 20 years old. He was married and had a two-year-old son Barry.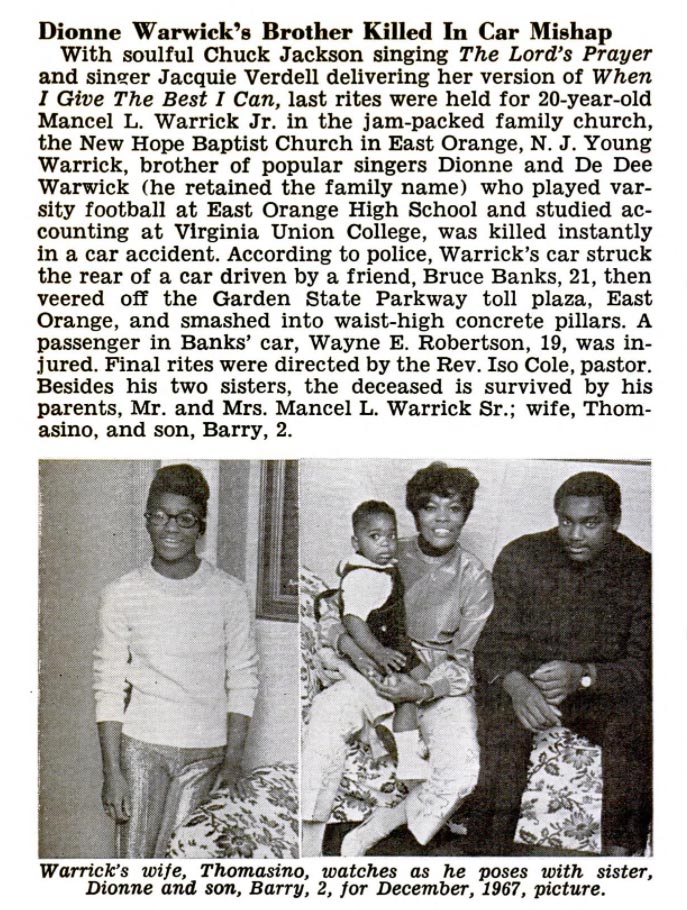 The response to the single prompted Mercury to release a 1967 album on Dee Dee, cobbled together from sessions she'd done up till then and in February of that year, she reunited with producer Jerry Ross and arranger Jimmy Wisner for a three-song session that yielded her next chart hit, in the form of 'When Love Slips Away', a Top 50 R&B hit.
Dee Dee noted in our 2001 interview, "I really enjoyed working with Jimmy Wisner. He was this white guy who was very talented and he pulled some great things out of me vocally."
1967: I Want To Be With You / I'm Gonna Make You Love Me
1983: Dee Dee (US)
*Two albums ('Dee Dee' and 'Call Me') did in 4 days. Dee Dee was the co-producer.
1984: Call Me
*Two albums ('Dee Dee' and 'Call Me') did in 4 days. Dee Dee was the co-producer.
2001: I Want To Be With You (US)
2005: The Collection (Europe)
2014: The Complete Atco Recordings (US)
For promotional use only ! **ALL COPYRIGHTS GO TO THEIR RESPECTIVE OWNERS. PLEASE SUPPORT THESE ARTISTS BY BUYING THEIR TRACKS.**
Dee Dee Warwick - Foolish Fool (1969)

Dee Dee Warwick - I Want To Be With You (2001)

Dee Dee Warwick - Call Me (1984)

Dee Dee Warwick - Collection (2005)

Dee Dee Warwick - Turnin' Around (1970)