American singer. Younger sister of Dionne Warwick, cousin of Whitney Houston, niece of Cissy Houston.
Birth name: Delia Juanita Warrick
Changed her name from "Warrick" to "Warwick" – because of her sister's misspelled name on her first hit record "Don't Make Me Over" – in 1963 after signing with Leiber & Stoller.
Born: September 25, 1942. Newark, New Jersey, U.S.
Died: October 18, 2008 (aged 66) Essex County, New Jersey, U.S.
Years active: 1961 – 2008
Labels: Jubilee, Tiger, Hurd, Blue Rock, Mercury, Atco, RCA, Sutra, Heritage, Private Stock
Vocal Range: C♯3 – A5
Favorite Color: Blue, Yellow
Favorite Food: Chitterlings
Favorite Time of Year: Fall
Favorite Vacation Spot: Chicago, Illinois
Favorite Quote: Eighty-Six, Get It Out Of Here
Source: thehistorymakers.org/biography/dee-dee-warwick-41
One of the most powerful soul singers of all time, Dee Dee Warwick was born Delia Warrick on September 25, 1942, in Newark Heights, New Jersey, into a musical family with its roots steeped in gospel music. Her mother, Arthur Lee Drinkard Warrick, was a founding member of the acclaimed Drinkard Singers, whose line-up included her aunt Cissy Houston. The Drinkard Singers sang regularly at the New Hope Baptist Church in Newark, New Jersey.
As a young teen, Warwick and her older sister Dionne formed their own group called the Gospelaires; the group often appeared with the Drinkard Singers. In 1959, the Warwick sisters got their first big break in the music industry at the famed Apollo Theater in Harlem when they were asked to sing background vocals in a studio session for Sam Taylor. During this session with Savoy Records, the song 'Won't You Deliver Me' was recorded; this was the Warwick sisters' recording debut. Warwick would go on to be featured in hundreds of recordings that were made in New York between 1960 and 1965.
In 1963, Warwick launched her prolific solo recording career, in which she would become one of the most respected voices in Soul music. Warwick's discography includes such hits as 'I Want To Be With You' and 'Foolish Fool'; both of which were recorded for Mercury Records. During the 1970s, Warwick continued to record, adding 'She Didn't Know, She Kept On Talking', recorded for Atco Records, to her long list of hits. During the 1980s, Warwick recorded albums for Sutra Records and Heritage Records; both of which have become collectors' items.
After living in Los Angeles and Georgia for a number of years, Warwick moved back to New Jersey, where she started making soul music and appearing in Gospel musicals. Warwick passed away on October 18, 2008, at the age of 66.
Source: davidnathan.com
For the notes I wrote for 'I Want To Be With You' The Mercury / Blue Rock Sessions, a 2001 U.S. compilation based on her tenure with the labels, I described the late Dee Dee Warwick as a pioneer, referencing her 1999 much-deserved Rhythm & Blues Foundations Pioneer Award. It was a very special evening for the younger sister of Dionne Warwick: her mother Lee was in attendance and it was Dionne who presented her with the award after Dee Dee wowed the audience with a rendition of her original version of 'I'm Gonna Make You Love Me', which would go on to be a massive hit for The Supremes & The Temptations within a year or so of her own recording of it.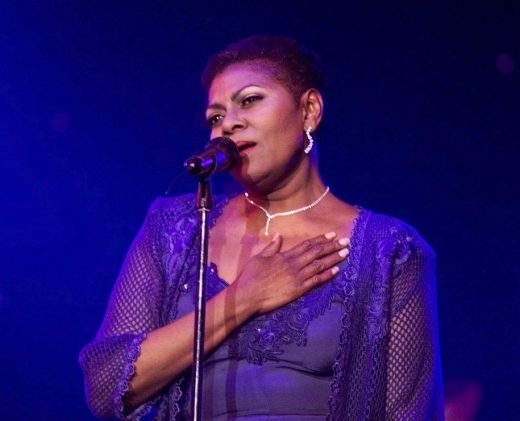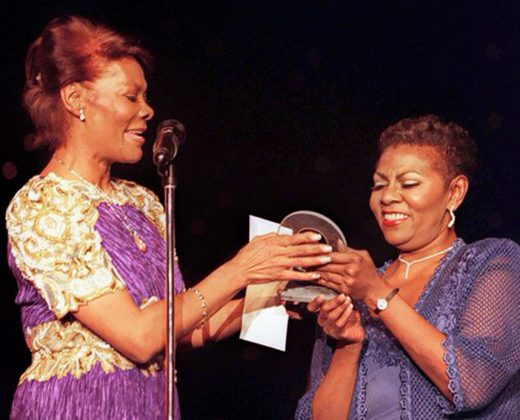 I wonder in retrospect what the illustrious, star-studded crowd would have thought if instead, Dee Dee had performed the emotionally-charged 'Foolish Fool' the centerpiece of this SoulMusic Records release and the title track for the soulful singer's second album for Mercury! When Dee Dee recorded the song in 1969, she sang with such intensity that it stood out as a rare slice of what has since become known as 'deep soul' amongst the sea of easy-going sing-a-long ditties of the day.
But that was Dee Dee's way: she always sang with true feeling and her internationally-famed sister Dionne commented in a quote especially for this 2012 reissue, "Without showing bias and I must admit it is very hard not to, whenever I have been asked about Dee Dee and her voice, I have and will continue to give the same answer: her voice was I feel the 'special' voice of the family. She had a way with expressing a lyric unique only to her…" Dionne's comment is borne out by the amazing sixteen tracks that comprise this expanded edition of 'Foolish Fool', reissued for the first time in its original form, with three tracks making their official CD debut.
The family into which both Dee Dee and Dionne were born was steeped in gospel music: as is well known in soul music circles, aunts Emily ('Cissy') and Anne and uncles Larry and Nicolas forming the very nucleus of The Drinkard Singers, managed by Lee Warrick, mother of the two young girls who would later form their own group, The Gospelaires.
In a 1998 interview for Britain's Blues & Soul magazine, Dee Dee shared, "My aunt Cissy really pushed me to sing first when she was the choir director of our church when I was growing up." Church was New Hope Baptist in Newark, New Jersey, a few miles away from the East Orange home where Delia Juanita Warrick, her older sister Marie Dionne and younger brother Mancel lived. In addition to singing in the choir, Dee dee recalled in 1998, "I really wanted to be a gospel singer because I was a student of Mahalia Jackson and Clara Ward…"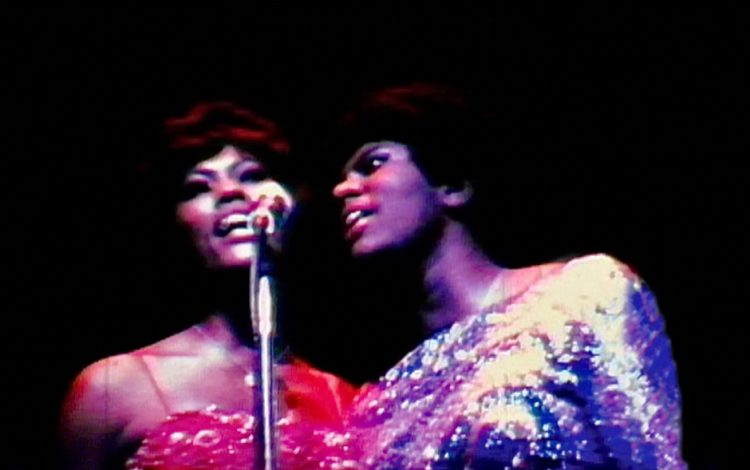 Her early ambitions were sidetracked after the young Gospelaires were visiting The Drinkard Singers at Harlem's famous Apollo Theater: backstage, a producer had asked the Drinkards if they could do a background session for saxophonist Sam 'The Man' Taylor for Savoy Records. The group were unavailable but sisters Dee Dee and Dionne were – and along with cousin Myrna Smith (who would later become an integral part of The Sweet Inspiration along with aunt Cissy Houston) – The Gospelaires got their first recording gig on February 9, 1961 singing '(Won't You) Deliver Me' behind Taylor.
Thus began a busy period of background sessions in and around New York with such major names as Ray Charles, Little Eva, Dinah Washington, Brook Benton, and The Drifters, sometimes with good friend Doris Troy of 'Just One Look' fame. As has been well documented, it was at a Drifters session that sister Dionne was spotted by songwriter Burt Bacharach and before long, she was making demos for him and new partner Hal David who together secured her a record deal with Scepter Records – the rest, as is said, is history!
Dee Dee continued doing session work with Myrna, local gospel singer Estelle Brown and Sylvia Shemwell (blood sister of Judy Clay, who as Judy Guions had performed and recorded with The Drinkard Singers), singing behind the likes of Aretha Franklin (at Columbia Records at the time), soul stars Garnet Mimms, Maxine Brown, Chuck Jackson, Esther Phillips and Nina Simone among many others. By 1963, Dee Dee was being courted to make her own records but as she noted in our 1998 interview, "It took me a while to get into having a solo career… Having it wasn't a big deal to me and frankly, I didn't realize what I was doing. I was still quite young and the idea of having a hit was a fantasy to me."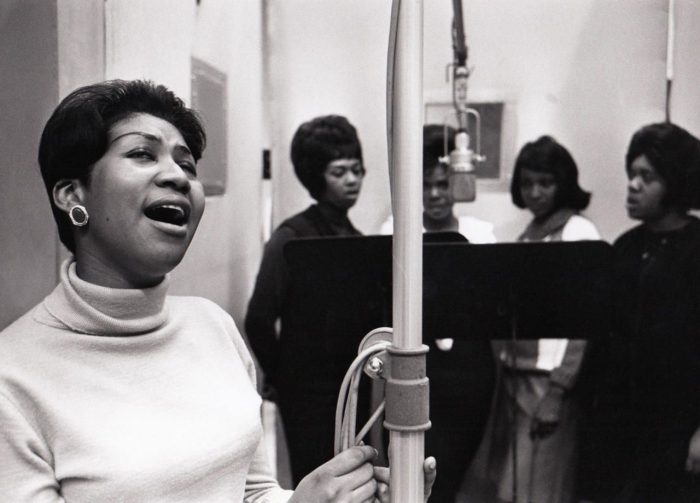 It took a few years for Dee Dee to experience being a hitmaker: she recorded with songwriter/producer Jerry Leiber and Mike Stoller (responsible for hits for Elvis Presley, Ben E. King and The Coasters among others) and even had a one-off session for the tiny Hurd Label, financed as Dee Dee laughingly would later recall, "by a shoe manufacturer who wanted to be in the music business!". In 1964 with sister Dionne riding the international charts with tunes like 'Anyone Who Had A Heart' and 'Walk On By', Dee Dee signed with Blue Rock Records, then a new subsidiary of Mercury Records.
Dee Dee's first few singles for Blue Rock did tolerably well – 1965's 'We're Doing Fine' reaching No.25 on the R&B chart – but it was after her switch to the main Mercury label that she enjoyed her first significant chart success with 'I Want To Be With You', a song from the musical Golden Boy (which starred Sammy Davis Jr.), that catapulted her into the U.S. R&B Top 10 and pop Top 50.
A February 1966 session with producer Lou Courtney (a recording artist in his own right) included the song, 'Don't Pay Them No Mind' with a particularly pointed and powerful lyric about a couple subjected to societal ridicule (possibly because of race or sexual orientation) and Dee Dee's original version of the song (cut also by her then-labelmate Nina Simone, for whom Dee Dee had sung backgrounds in 1964 and 1965) remained in the can until it was included on the 'Foolish Fool' album some three years later.
It was on a May 1966 visit to the U.K., ostensibly to appear on the popular British television show, 'Ready Steady Go!' that Dee Dee found herself in the recording studios of Philips Records (the Dutch-based parent company of Chicago-based Mercury Records) cutting a track with producer Johnny Franz and arranger Peter Knight, known for their stellar work for British star singer Dusty Springfield.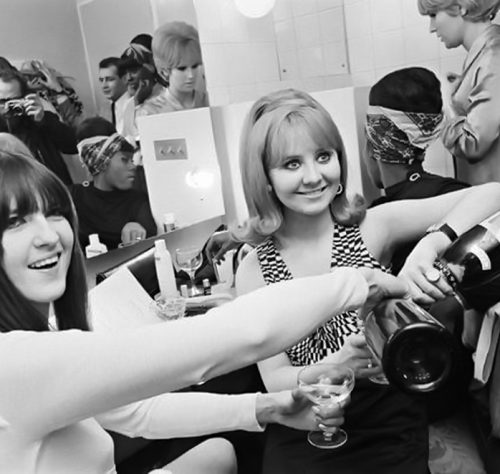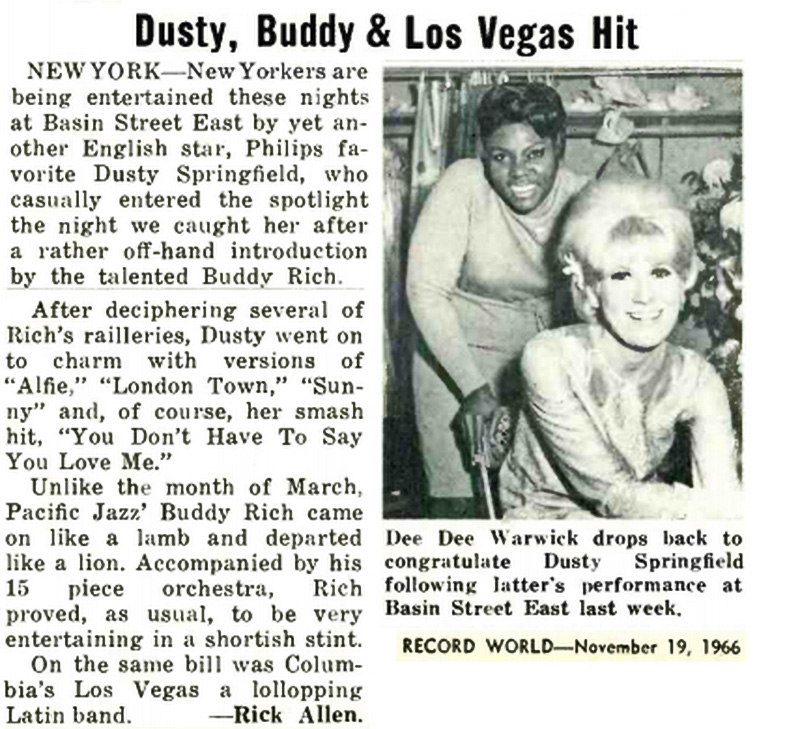 The choice of song was particularly interesting: written by Bacharach & David specifically for the film of the same name, 'Alfie' had already been a Top 10 U.K. hit for Liverpool native Cilla Black, already a major chartmaker in Britain by the time Dee Dee cut it in London. In a 2001 interview we did, she remembered, "I couldn't believe what they had there for me. There was a forty-piece orchestra and a full chorus… The whole session blew me away."
Philips in the U.K. issued it as part of an EP and then a few month later a the 'B' side to the single 'I Want To Be With You', while in the U.S. it finally surfaced as the flipside of another 45, 'Locked In Your Love', released in 1967. In a 2012 comment for these notes, Dionne – who would have the biggest U.S. chart success with 'Alfie' in 1967 after cutting it well over a year after her younger sister – noted, "Dee Dee called me when she recorded 'Alfie' and was excited about the way it turned out. When I finally got a chance to hear her recordings, I felt the definitive version had now been done! She treated the song as only she could…"
Following the U.S. success of 'I Want To Be With You', Mercury had Dee Dee work with several other producers but it was in October 1966 with Philadelphia producer Jerry Ross on a song he'd co-written with then-fledgling writer Kenny Gamble and Jerry Williams (aka 'Swamp Dogg') that brought more success for the singer. Although 'I'm Gonna Make You Love Me' would become a major crossover hit for The Supremes & The Temptations in early 1969 (and achieve some chart action for U.K.-based American singer Madeleine Bell in her homeland in April 1968), Dee Dee's original version (which featured Nick Ashford & Valerie Simpson on background vocals) reached No.13 on the R&B charts.
The response to the single prompted Mercury to release a 1967 album on Dee Dee, cobbled together from sessions she'd done up till then and in February of that year, she reunited with producer Jerry Ross and arranger Jimmy Wisner for a three-song session that yielded her next chart hit, in the form of 'When Love Slips Away', a Top 50 R&B hit. Dee Dee noted in our 2001 interview, "I really enjoyed working with Jimmy Wisner. He was this white guy who was very talented and he pulled some great things out of me vocally."
At the same recording date, she recorded 'Don't You Ever Give Up On Me', which would become a favorite among British 'Northern Soul' lovers who liked the song's catchy dance beat and although as a single Mercury, it failed to see any chart action.
The same fate befell a series of singles Mercury released an Dee Dee during 1968 including 'Girls Need Love' whose flipside, the wonderful 'It's Not Fair', was written by Kenny Gamble and Thom Bell, who both had a major impact on the music world of the late '60s and early '70s, Bell as a songwriter and producer for such artists as The Delfonics, The Stylistics and The Spinners and Gamble as one half of the then-emerging team that included his musical partner Leon Huff.
Gamble & Huff produced a great January 1968 session on Dee Dee in Philly and thinking back, she recalled in 2001, "I felt good about the sessions I did with Gamble & Huff. They were relaxed sessions and we always rehearsed and prepared before we went into the studio. I got to know what I was singing."
However good the music sounded, her work with Gamble & Huff wasn't giving Dee Dee the kind of chart action Mercury sought: it was time for a reunion with Ed Townsend, the producer who had given the soulful songstress her first hit single in 1965 with 'We're Doing Fine' repeated with even more impact in 1966 with 'I Want To Be With You'.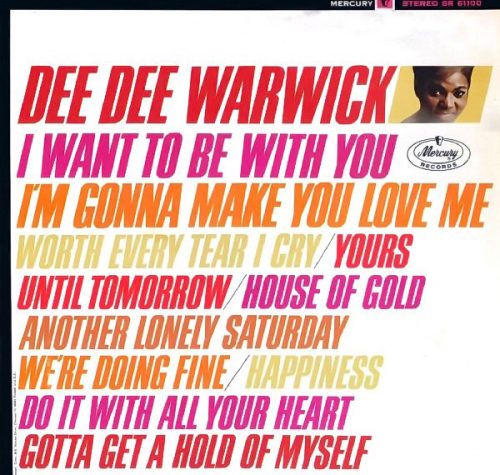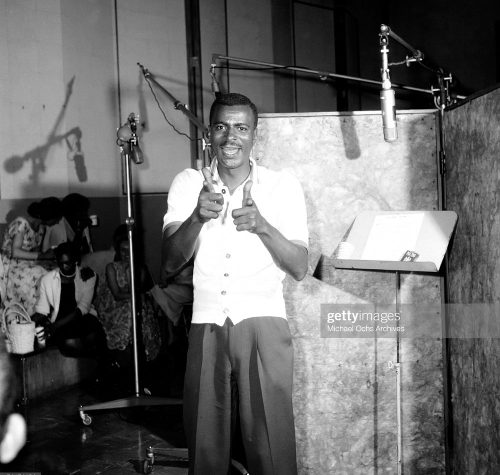 Townsend, a recording artist himself – who had enjoyed success in 1958 with 'For Your Love' and would go in the early '70s to work with Marvin Gaye on his famed 'Let's Get It On' sessions – was by all accounts quite a character but he seemed to have the ability to bring out a particularly intense quality in Dee Dee's vocal performances in the studio.
A November 1968 session consisting of three songs would be memorable for Dee Dee as well as providing her with her biggest hit single in three years. With a great arrangement by Rene Hall, the Townsend-penned 'Foolish Fool' was a musical milestone for the New Jersey singer.
In 2001, Dee Dee laughed remembering the occasion: "It was chaos! Ed was crazy. I wanted to walk out. Aunt Cissy stopped me. 'You're gonna go back in there and sing those songs!' she told me…" and three years earlier when we talked in 1998, speaking about the song itself, Dee Dee offered, "I didn't like it. I kept thinking, 'what is he talking about with this song? I just got very creative and once I got into it, I could relate. Because at that time, people were giving me their opinions about my personal life and I was, 'to hell with it, I'm with who I'm with and that's my business' ".
'Foolish Fool' reached No.13 on the R&B charts and No.57 on the pop listings, earning Dee Dee her first Grammy nomination and over forty years later, the only cover version of the song was cut by none other than the legendary Chaka Khan for her 2007 album, 'Funk This.' Sister Dionne, 2012: "Hearing 'Foolish Fool' for the first time and knowing it was nominated for a Grammy was a great feeling and as far as I am concerned, she should have won the award that year! I remember having a conversation with Chaka (in 2007) and she let me know how much she loved 'Foolish Fool' and that she intended to re-record it – it was great to hear her say this…"
The second track recorded that momentous day in 1968 had special significance for Dee Dee: "I have always loved the inspirational song, 'Thank God'. My father came with me to the session and he actually co-wrote the song… even though he never got credit for it", she recalled in 1988. With the Teaneck Choir from her home state providing musical support, the recording highlighted Dee Dee's ever-present gospel roots and in a 2012 comment, sister Dionne states, "I was not at that session but I do remember when daddy got home he raved about the recording and how sensational Dee Dee sounded and how much the producer, engineer, and orchestra enjoyed being a part of the session…"
The third song from the same session, 'Thank You Love' was saved for the 'Foolish Fool' album as were 'You Taught Me To Love' and 'Where Is That Rainbow', two of the songs from Dee Dee's March 1969 session with producer Townsend and arranger Hall. 'That's Not Love', the third song from the session, was released as the follow-up single to 'Foolish Fool' but didn't achieve the same kind of chart success.
However, propelled by the response to its predecessor, Mercury put together the fruits of Dee Dee's work with Townsend as the focus of her second album for the label although the inclusion of various other tracks recorded in different locations at different times with different producers resulted in a sonic mix that was less than perfect, not aided by the less-that-stellar job performed by the original mastering engineer. Thanks to modern technology and audio 'magic' by SoulMusic Records' mastering man, Alan Wilson, much of the seeming unevenness of sound on the original album has been erased.
Fortunately for Dee Dee, she achieved her first and best showing on the R&B Albums chart when the 'Foolish Fool' LP hit the No.30 spot in 1969. However, the balance of her tenure with Mercury would prove less impactful, despite the consistently high quality of vocal performance Dee Dee always turned in.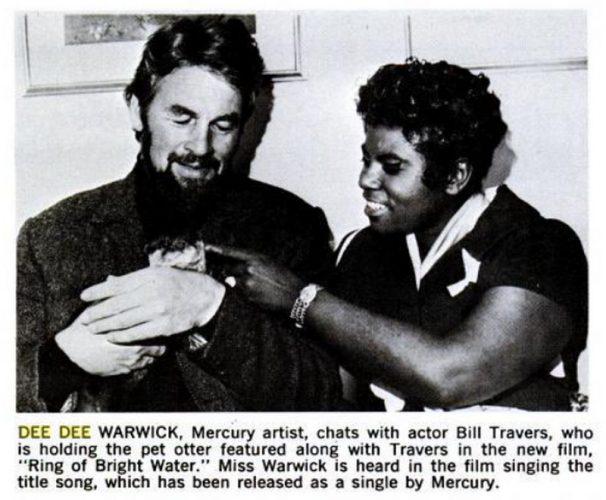 A beautiful ballad, 'Ring Of Bright Water' (the theme from a film of the same name about an otter!), produced by Townsend and Jack McMahon with a wonderful arrangement by Bobby Scott, showed the tender side of Dee Dee's interpretative skills and appeared as the 'B' side of the upbeat single 'Next Time (You Fall In Love)' from her final 1969 session with Townsend.
In one last attempt to give Dee Dee her chart due, Mercury teamed her with Bill Medley of The Righteous Brothers as arranger and Buddy Smith as producer for a re-recording of 'Where Is That Rainbow' and Dee Dee's second version of 'I (Who Have Nothing)' the Ben E. King hit she had cut for the shoe manufacturers back in 1963! The session was less than magical for the singer as she pointedly remarked in 2001, when referencing Medley: "We didn't get along. I think he wanted more than I could give personally".
Dee Dee's days with Mercury drew to a close – temporarily. Renowned executive Jerry Wexler signed her to Atco Records in 1970 and she was immediately rewarded with a hit via the Jerry Williams song, 'She Didn't Know (She Kept On Talking)', garnering Dee Dee a Top 10 R&B hit and a Grammy nomination.
A great Atco album and various singles followed over a two-year period and in 1973, Dee Dee returned to Mercury for a four-song session with producer Paul Vance and arranger Al Capps. Two songs – 'You Can Make A Memory Out Of Me' and 'Come Hell Or High Water' remained unissued – but the coupling of 'All That Love Went To Waste' (featured in the 'A Touch of Class' film, starring British actress Maggie Smith) and a standout reading of 'I Haven't Got Anything Better To Do' (previously recorded by Carmen McRae among others and subsequently cut by Esther Phillips for Kudu and decades later by Natalie Cole) comprised Dee Dee's very last Mercury single.
Subsequently, Dee Dee recorded for various labels including Private Stock, RCA (for a brief moment as 'DeDe Schwartz'!), Sutra and Heritage, continuing to perform occasionally and from time to time, tour with sister Dionne doing background vocals. Ill health prevented Dee Dee from becoming more active in the '90s and beyond but fittingly, her final recording session was a duet with Dionne for the title track of Dionne's 2008 gospel album, 'Why We Sing'.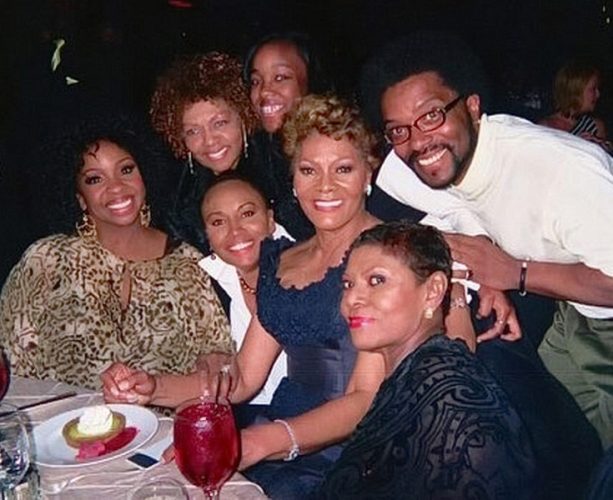 On October 18, 2008, Dee Dee Warwick passed away at a nursing home in New Jersey with her sister by her side. Reflectively, Dionne said in 2012, "How do I write about one that is my sister who was and is still so very dear to me?" This representation of some of her work will be a terrific listening experience, so sit back, relax, and enjoy!"
I concur and for me, the SoulMusic Records reissue of 'Foolish Fool' also has personal significance: Dee Dee was the subject of my first published interview which appeared in the British magazine, 'Rhythm & Soul USA' in May 1966. Over the years, I got the opportunity to interview Dee Dee and meet her at different times during my thirty-odd years in the U.S. She was a very special lady and we had quite a few great and oft-times humor-filled conversations: she was real, down to earth and I treasure my memories of the great Dee Dee Warwick, who created a wonderful legacy of recordings that truly epitomize and define the word 'soul'.
Dee Dee Warwick - Foolish Fool (1969)

Dee Dee Warwick - I Want To Be With You (2001)

Dee Dee Warwick - Call Me (1984)

Dee Dee Warwick - Collection (2005)

Dee Dee Warwick - Turnin' Around (1970)