Dee Dee Warwick - I Just Need You
Written by Carl D'Errico and Neil Diamond
Dee Dee Warwick - Foolish Fool (1969)

Dee Dee Warwick - I Want To Be With You (2001)

Dee Dee Warwick - Call Me (1984)

Dee Dee Warwick - Collection (2005)

Dee Dee Warwick - Turnin' Around (1970)
"At first, they thought that Dionne made a hit and here comes her sister, like everybody's sister does. But I can sing. Just give me a chance. When I get on stage, people don't care whose sister I am. If I can't sing. I'll get off."
Dee Dee has had singles, "which should have been hits and weren't. They were later for other people. What you need is exposure. The disc jockeys wouldn't want to do anything to hurt Dionne, so they let me just bubble under all the time. Now they're giving me consideration of an artist."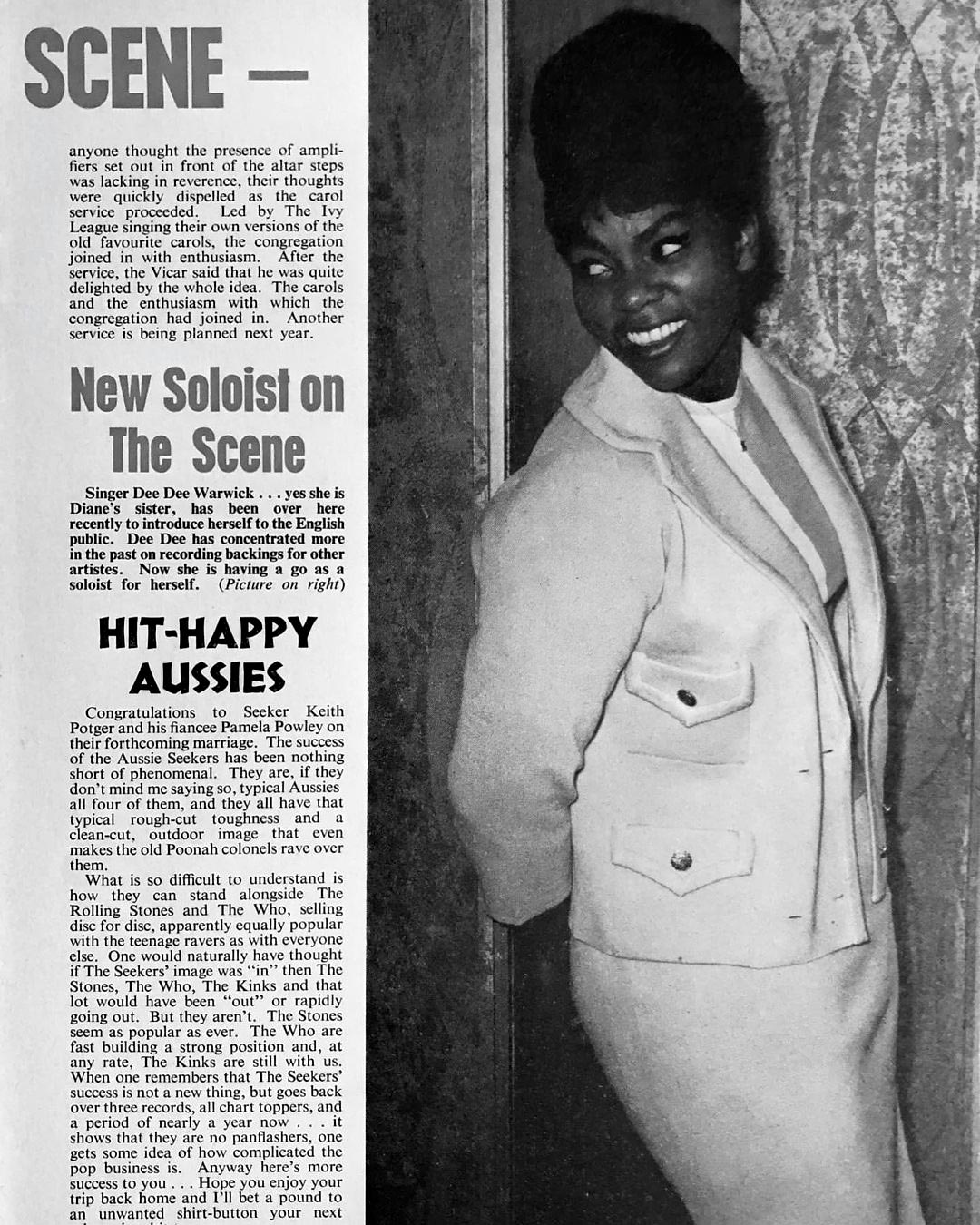 H: Now what years were that, that you nominated for the Grammys?
D: That must have been '68 [1968], '69 [1969], something like that. I got nominated for 'Foolish Fool' and I got nominated again in – no, my first Grammy nomination wasn't in the '60s [1960s], it was in the '70s [1970s]. And then I got another nomination for 'She Kept on Talking, But She Didn't Know' [sic. 'She Didn't Know (She Kept on Talking)']. And that was with Atlantic ATCO Records. And as a matter of fact, that album I did, the cover established a whole new category in the Grammys, for the cover. It was such a great cover. It was called 'Turning Around' with a nice picture of me. The guy who lived across the street from me was with Blood, Sweat and Tears (laughter) in Hollywood there, and he took the picture because he was an aspiring photographer. And it came out so good, they put it on the cover. So I mean, it's been pretty good.
H: As you look back – I mean we just hit here and there over your life. What are the things that stand out for you in the career you've had as a singer?
D: Well, that night at the Pioneer's [Pioneer Awards], of course, and at the Grammys [Grammy Awards]. Because I used to go basically all of them. And when I was nominated the year for 'Foolish Fool,' myself, Aretha Franklin, Esther Phillips, and two other people I forgot – but Dionne was announcing again the winner. And she was, everybody was so sure I was going to get it. And Dionne was announcing, and she says, "And the winner is – " and she knew it was me. She said, "Aretha Franklin?" (Laughter) It was a funny thing. I was the same way. I was like (laughter). But the UP, the IP, AP [Associated Press], said, "Now, you come right back to us." Because it was going to be a big deal, you know, that Dionne and I both had that kind of success. But it wasn't to be. But it will come, it will come.
Pioneer Award from the Rhythm and Blues Foundation (1999)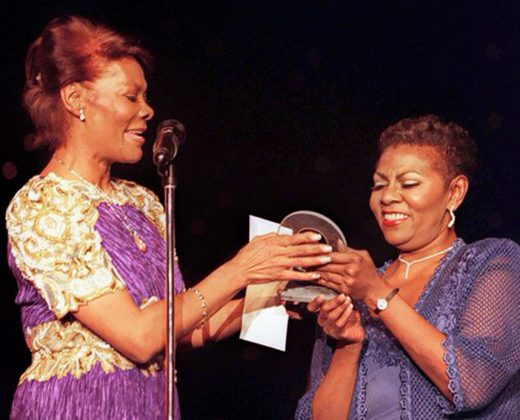 Emotional highlights included Ms. Warwick's being presented with an award by her more successful sister, Dionne, who modestly thanked the foundation for recognizing 'the real singer in our family'. Accepting her award, Dee Dee Warwick pledged, "I promise I'll see better days".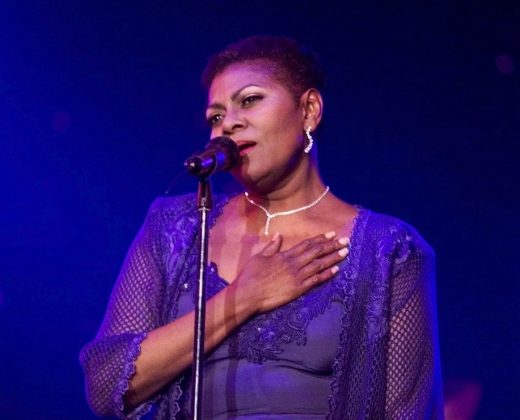 H: So you were also – what year was it you were inducted into the Pioneer Awards?
D: That was not long ago. Well, what year was it? It was '99, yes, 1999.
H: And how did that come about?
D: They voted for me. You know, I'd been up for the award many times, but didn't get enough votes. But for goodness sake, I did get it this time. And it was for 'I'm Going to Make You Love Me'. Now isn't that ironic? And Berry Gordy and The Supremes were at the dinner.
H: What was it like? Tell me about the atmosphere. I mean it's got to be exciting.
D: Oh yes, yes. It was a gala evening, you know, a big, formal dinner and a show. As a matter of fact, I performed 'I'm Going to Make You Love Me'. And Dionne announced me as a winner, introduced me. So, it was quite a special night.
Dee Dee recorded demos for music writers, like Carl D'Errico and Neil Diamond, who sold it to other singers. During her career as a background singer, Dee Dee Warwick recorded thousands of demos. "We used to do Dionne's records and everything that came out of Atlantic and all of Aretha's work at Columbia. We'd sing from 2 in the afternoon until 5 or 6 in the morning, going from session to session to session. They had me doing demo records as well, so I'd be in there at 11 in the morning. Can you imagine what that does to you ?" For promotional use only ! **ALL COPYRIGHTS GO TO THEIR RESPECTIVE OWNERS. PLEASE SUPPORT THESE ARTISTS BY BUYING THEIR TRACKS.**